Remembrance Day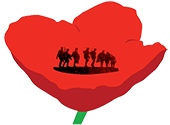 REMEMBRANCE DAY - 11th NOVEMBER - marks the anniversary of the armistice which ended the First World War (1914-18). Each year Australians observe one minute silence, observed at the 11th HOUR of the 11th DAY of the 11th MONTH in memory of those who died or suffered in all wars and armed conflicts.
HISTORY ?...The moment in 1918 when hostilities ceased was originally named Armistice Day, becoming a time when allied nations honoured the brave sacrifices made by all who fought and lost their lives during the First World War. At the end of the Second World War, the Australian and British governments renamed November 11 Remembrance Day to mark and remember all who have fallen in times of war. The ritual of observing one minute of silence was first proposed by Australian journalist Edward Honey in 1918 and continues to be universally practiced on Remembrance Day each year.
RED POPPY ? ...During the First World War, red poppies were among the first plants to bloom in the devastated battlefields of northern France and Belgium. In soldier\'s folklore, the vivid red of the poppy came from the blood of their comrades soaking the ground, making the poppy symbolic of the bloodshed in trench warfare.
Hornsby RSL Sub-Branch conducts the REMEMBRANCE DAY SERVICE at Hornsby Cenotaph each year on November 11 commencing 10:55am.
In adverse weather conditions, the service will be held in the War Memorial Hall, 2 High St, Hornsby.
Those wishing to lay wreaths please contact the Secretary of the Hornsby Sub-Branch.
Other RSL NSW Branch Commemorative Events
Listed below are other RSL NSW Branch commemorations and events that are held outside of the Hornsby area that may be of interest to our members.
For the full list of RSL NSW Branch Commemorative events please refer to the